Skip to main content
Employee survey results
About this report
The 2017 Federal Employee Viewpoint Survey (FEVS) measured employees' perception of agency conditions which contributed to their organizations' success. This year, FEVS focused on two indices: Engagement and the New Inclusion Quotient (IQ). These indices encompassed the eight key areas FEVS selected in this report. The eight areas consisted of: Personal Work Experience, Agency, Leadership, Work/Life Programs, Work Unit, Supervisor, Satisfaction and Demographics.
Survey at a glance
This report presents an overview of FCSIC's 2017 FEVS results, with highlights of notable achievements. For this year, much of the report was devoted to the topic of engagement and the New Inclusion Quotient (New IQ).
Employee engagement Index
The Employee Engagement Index is a measure of the conditions conducive to engagement, that is the engagement potential of FCSIC's work environment. The index is made up of three subfactors:
Leaders Lead - Reflects the employees' perceptions of the integrity of leadership, as well as leadership behaviors such as communication and workforce motivation. (Q.53, 54, 56, 60, and 61)
Supervisors - Reflects the interpersonal relationship between worker and supervisor, including trust, respect, and support. (Q.47, 48, 49, 51, and 52)
Intrinsic Work Experience - Reflects the employees' feelings of motivation and competency relating to their role in the workplace. (Q.3, 4, 6, 11, and 12)
The New Inclusion Quotient (The New IQ)
The New IQ identifies behaviors that help create an inclusive environment and is built on the concept that repetition of inclusive behaviors will create positive habits among team members and managers. Behaviors included in the New IQ can be learned, practiced, and developed. The New IQ is made up of 20 questions that relate to inclusive workplace environments. The 20 questions are grouped into five "Habits of Inclusion" – Fair, Open, Cooperative, Supportive, and Empowering.
Overall, the New IQ index score increased by 3 percentage points since 2015. The biggest increase among the five "Habits of Inclusion" were Fair and Cooperative with a combined total increase of 23 percentage points. Open and Empowering combined total increased by 11 percentage points. The Supportive score decreased by 4 percentage points since 2015.
Fair - Are all employees treated equitably? (Q.23, 24, 25, 37, and 38)
Open - Does management support diversity in all ways? (Q.32, 34, 45, and 55)
Cooperative - Does management encourage communication and collaboration? (Q.58 and 59)
Supportive - Do supervisors value employees? (Q.42, 46, 48, 49, and 50)
Empowering - Do employees have the resources and support needed to excel? (Q.2, 3, 11, and 30)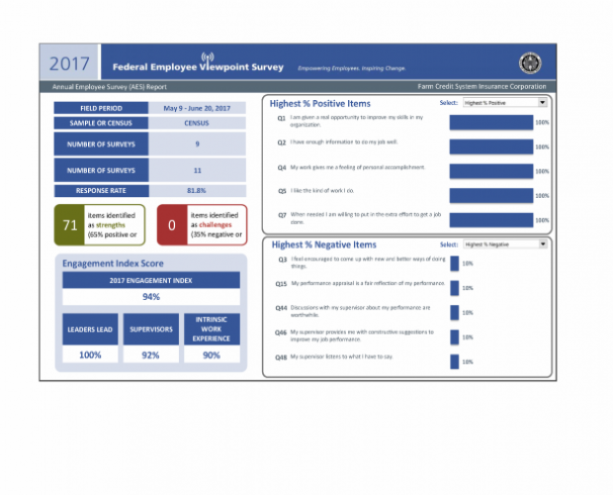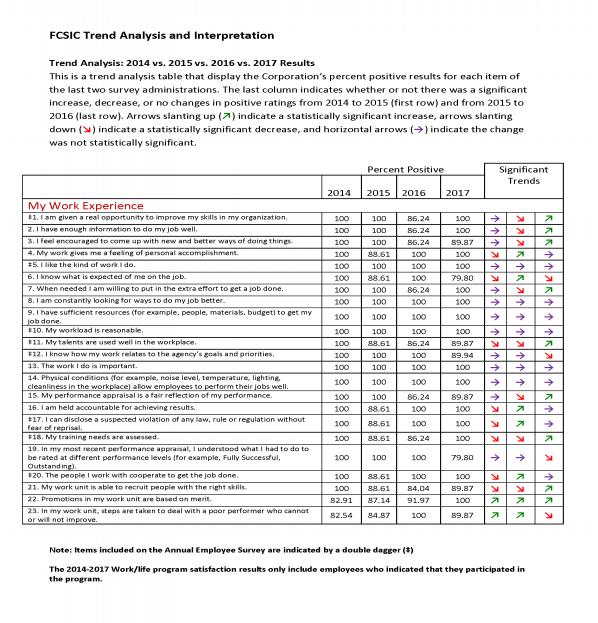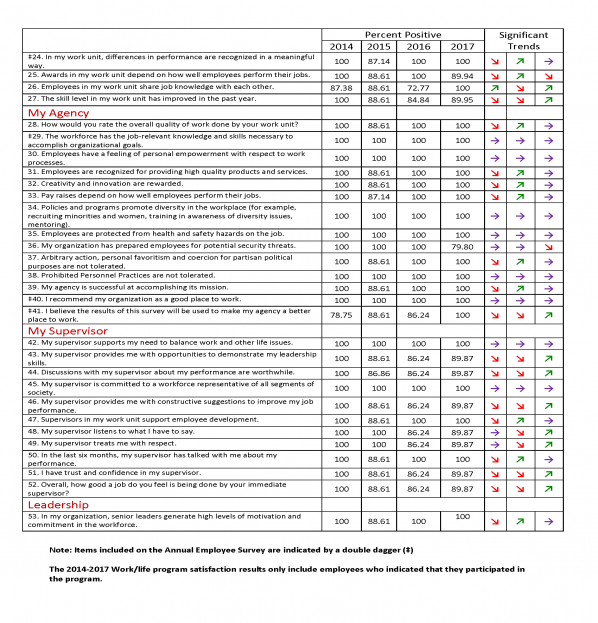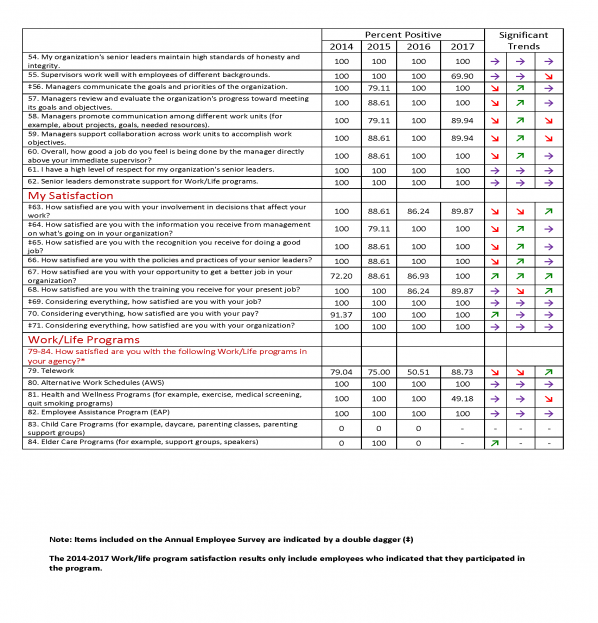 Conclusion
Overall, the survey results are positive. For this year's survey, all respondents indicated that they are given a real opportunity to improve their skills, they have enough information to do their job well, they like the kind of work they do, and that their work gives them a feeling of personal accomplishments. Also, all respondents indicated that they are willing to put in the extra effort to get the job done.
Page updated: February 21, 2018